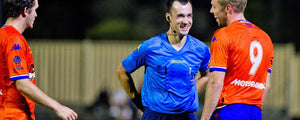 football queensland
Kappa Australia is proudly supplying Field and Futsal state teamwear
WELCOME FOOTBALL QUEENSLAND REFEREES
As an iconic football brand, Kappa has established a strong presence across Australia. Kappa looks forward to providing Queensland referees with a selection of high performance products which allows them to perform at their best.
All items have been specifically designed in consultation with a number of leading referees and key stakeholders from within Football Queensland and produced using the highest quality fabrics and technology.
SPEND $140 AND GET THE REFEREE POLO FOR FREE
STEP 1 - SPEND $140 ON ANY PRODUCTS
Select any of the products and spend a minimum of $140 to be eligible for our Free Polo offer.
STEP 2 - ADD THE REFEREE POLO TO YOUR CART
Make sure you select your size for the Official Referee Polo and add it to your shopping cart.
Then head to the online cart and check out.
STEP 3 - COMPLETE CHECKOUT
The Official Referee Polo will show in your cart as a FREE item.
Please note: standard shipping fees apply.
ESTIMATED DELIVERY TIMES
Due to the embroidery requirements of some garments, delivery can take up to 20 working days.